Quick Facts
30 million people died of tuberculosis between 1990-1999.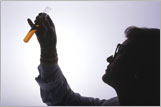 About Sequella
Our growth strategy capitalizes on our experience to advance new compounds with best-in-class potential from the bench to the clinic -- ultimately delivering these products to patients through strategic partnerships and alliances.
Please see our Executive Summary for more information on the company and our products.